so my fave band, motion city soundtrack, came out with a new cd last week.
i thought their last cd was a bit of a letdown so i was anxious to see if they would redeem themselves with this new one and guess what, they did!
this new cd has more of the lyrics and music you would expect from these guys. the only complaint i had was that i feel that their singer justin pierre's voice was a little over-produced.
if you haven't had the pleasure of hearing what these guys sound like you should watch my fave music videos.
the future freaks me out
is awesome! i love all the different scenes they have in this one!
my favorite accident
is hilarious! my fave part of this video is 2:18 - 2:22 when he's yelling at the bunny and twitches his head! and around 1:50 you'll see keyboardist jesse johnson do a handstand! amazing!
now, anyone who knows me well knows that i have a crush on justin pierre.
in fact, thats an understatement, i have a HUGE crush on justin pierre!
he's definitely in my top 5!
he has the most amazing voice and crazy look!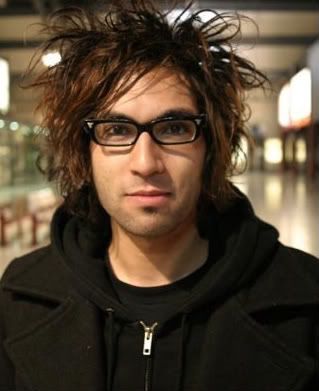 this is definitely my most fave picture of him!
i really wish i could talk matt into looking like this!
i guess i just have a thing for that haven't-washed-my-hair-in-days look!
the first time i saw them play live it was my birthday and my friend told justin to give me a birthday hug, which he did and i practically fainted!
then several years later i received a kiss on the cheek from this stud so basically...i am awesome!